Boyd Truck Wraps
---
Post Date - Apr 8, 2022
Truck wraps have been gaining in popularity over the last decade or so with some highly creative, fun, and inspirational artwork showing up on our interstates. In the past, Boyd Brothers Transportation has had trucks to memorialize and remember the September 11 terrorist attack on America as well as well as our 60th anniversary. Here's a look at some of the other meaningful truck wraps we have rolling at Boyd Brothers!
Breast Cancer Truck
There's no missing this pink Kenworth on the road! With a solid pink cab wrapped with a custom "Fight like a girl" message, the Boyd Brothers' breast cancer awareness truck was inspired by its original driver who had multiple family members battling breast cancer. For every mile driven by this truck in October during Breast Cancer Awareness month, Boyd makes a donation toward breast cancer research.
Prisoner of War Truck
This truck features graphics drawing awareness to prisoners of war, past and present. Since the original driver was a paratrooper, who are often tasked with skydiving into enemy territory, this truck features paratroopers in the design.
Patriotic Truck
Our navy blue truck shows our love of the United States! It features an American battle flag with the words "We the People" on the nose of the cab. Behind the side door, another flag is placed vertically with the coiled timber rattlesnake seen on the 1775 "Don't tread on me" flag placed on top. On the snake, there are thirteen rattles symbolizing the original thirteen colonies, and represents our citizen's vigilance and willingness to defend our country.
Wreaths Across America Truck
Every December, Wreaths Across America leads an effort to remember the fallen, honor those who serve and teach children the value of freedom by hauling wreaths to be placed on the headstones of U.S. military veterans across the country. One of Boyd's newest million milers, Alan Lawson, is a veteran who has volunteered to deliver wreaths to Arlington National Cemetery for the last few years in our patriotic-themed truck.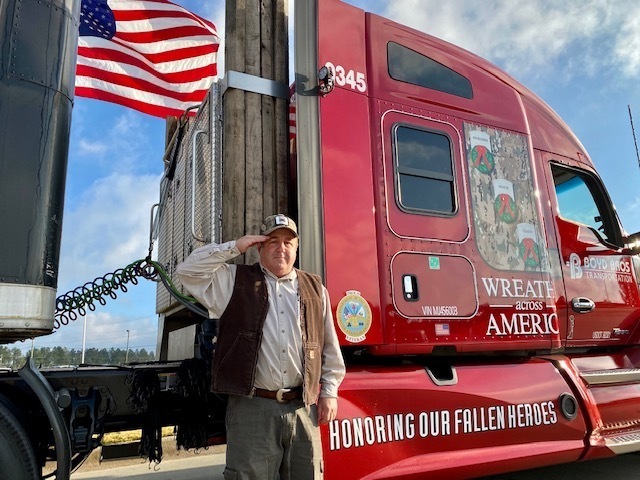 Auburn Truck
Can we get a War Eagle!? In our home state of Alabama, college sports are very popular with powerhouse universities leading the way in fandom. Boyd Companies' President Dwight Bassett and Boyd Companies CEO Chris Cooper are diehard Auburn University fans along with many other office employees and drivers. Henry, our current driver who drives the Boyd Auburn truck is a big fan and he's proud to say his grandson played football for Auburn.
Alabama Truck
Of course, you can't mention college football without having Alabama University as part of the conversation! The Alabama Crimson tide is well represented with our Roll Tide truck featuring Alabama's iconic houndstooth pattern with the school's big A prominent on the sides and hood. The truck is currently driven by Hullon, a big Alabama University fan.
Lutzie 43 Truck
The Lutzie 43 Foundation honors Philip Lutzenkirchen, an American football tight end who played at Auburn University and finished his career as the schools all-time leading receiver in touchdowns among tight ends. He passed away in a vehicle accident and in the aftermath his family set up a foundation to honor him. April was National Distracted Driving Awareness month and due to Boyd's commitment to help spread awareness and support their AU team, they partnered with the foundation and created a truck wrap to memorialize the foundation and Philip himself.